2011 Archives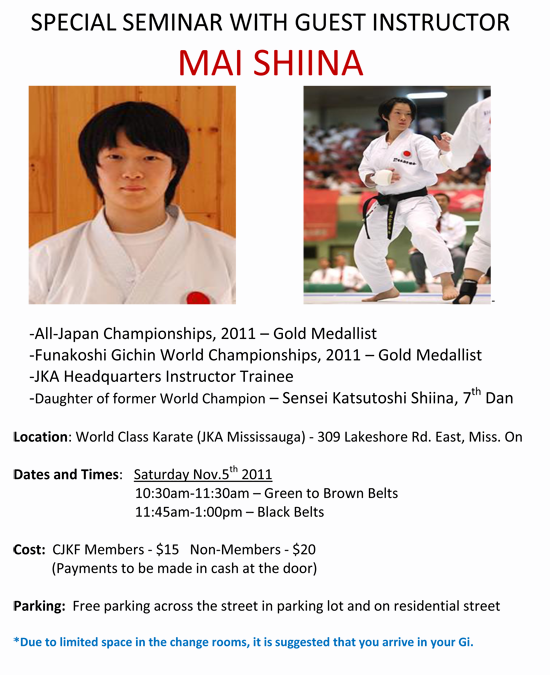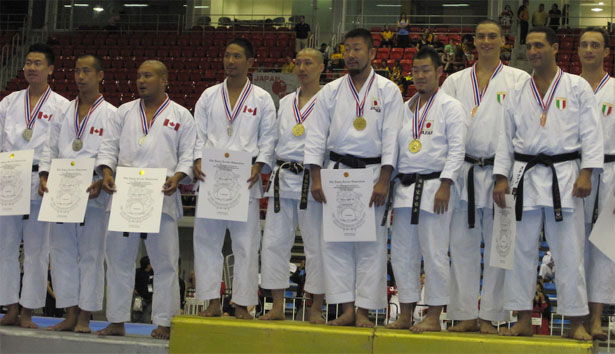 World Karate Championships (posted by Ed Leung)

The 12th Gichin Funakoshi World Karate Championships was held in Pattaya, Thailand from August 18th - 21st. It was the best ever accomplishment by Team Canada at the JKA World Championships.

Team Canada was managed by Sensei Minoru Saeki and coached by Senseis Ed Leung, Jean-Pierre Cusson (Quebec), and Salvina Sharp (BC).

The Men's Kata Team of Sensei Ray Tio, Sensei Stan Tio, and Colin Chin with Eric Leung as the alternate, placed 2nd. Japan was 1st and Italy 3rd.

The Men's Kumite Team of Sensei Stan Tio, Colin Chin, Eric Leung, Etienne Herady, Sensei Ray Tio and Don Sharp placed 3rd. Japan was 1st and Brazil 2nd. Canada lost to Brazil in the semi-finals but won their 3rd place match against Norway.

Don Sharp took one for the team against England in the 2nd round and was not able to compete for the remainder of the competition. Colin filled in for the remaining matches and was on fire. Team Canada won against Russia in the next round.

In the Men's Individual Kata, Sensei Ray placed 6th, unfortunately he was the first to perform in the top 8 finalists. Sensei Stan lost to Hukuhara (3rd) in the 3rd round, and Eric lost to Kumeta (4th) in the 2nd round.

In the Men's Individual Kumite, Sensei Stan lost to the European champion Fomiryakov Dimitry from Russia. On the coach's advice Eric withdrew from his individual kumite match to focus on the team kumite since the team did not have an alternate going into the semi-finals. Etienne made it to top 16 before losing to Pissis Cedric of France.

The Women's Kata Team of Manon Quirion, Carole Canaan and Sandrine Ng from Quebec placed 7th.

The Women's Kumite Team of Manon Quirion, Sanja Mitrovic and Sofia Mojica was unfortunate to be matched against Team Japan in the first round.

In the Women's Individual Kata, Soledad lost to World champion Nozomi Oshima of Japan. Dominique lost to Henriette Orrem of Norway. Carole lost in the 2nd round to Serino Hukasaku of Japan. Manon lost to Elena Gasparetti of Italy.

In the Women's Individual Kumite, Carole made it to the top 8 before losing to eventual World champion Asumi Isiduka of Japan. Sofia lost her match against Trafimova Anna of Russia. Sanja lost to Anika Lapp of Germany in the 2nd round. Manon lost to Josmaira Quiroz of Venezuela in the 3rd round.

In the Junior divisions, Amanda Keriliuk, Zachary Charlton and Jacob Maud from BC made it through a few rounds in their events. Jacob, even though small in stature, was fearless against much bigger opponents.

Many thanks to Sensei Saeki and the CJKF organization for their many contributions. We have greatly benefited from the seminars held by the various JKA HQ instructors over the past 4 years, including Masters Tanaka, Ueki, Osaka, Imura and Senseis Shiina, Kobayashi, Ogata and Nemoto.

Thanks to Kenichi, Marie, Sandra, Bobby, Thomas, Megan, Boris, Rose, familes and friends from Montreal, Winnipeg, and BC for travelling with the team and giving your support. Thanks also to all of the supporters from the different countries who were cheering for Canada, the loudest being the Brazilians and the Aussies.

Congratulations once again to Team Canada.

Next JKA World Championships - Paris, France August 2014.



Koyo Camp - August 4-7th - The 9th annual CJKF Koyo Camp is being held in Ottawa. Legendary JKA Master, Masahiko Tanaka will be conducting the Instructors Seminars and Sensei Koji Ogata, two-time and current JKA World Kumite Champion will be conducting the Power Seminars, which will be a physically intense and technically challenging training program geared to competitors and others who wish to improve their speed, strength, timing and artistic expression.



Dan Examination and Seminar - Saturday May 28th at the World Class Karate dojo in Mississauga. Conducted by Saeki Sensei.

Congratulations to all those who passed their Dan examination.

Click here for Dan examination results



Provincial Championships - Sunday May 29th - Canada JKA Karate Federation Provincial Championships at Senator O'Connor Secondary School.